Not that I have the living room done, or anything, but I felt like beginning work on our master bedroom.
Paint the walls
Remove the wall paper in the bathroom sink area
Remove the ceiling fan and install a light fixture, or a newer fan (husband likes fans)
Upgrade endtables to the correct height for our bed (ours are too short)
Upgrade lamps on the end tables so we can see to read in bed (perhaps install lamps that attach to the walls beside our bed)
Paint one of the dressers in an accent color for some fun
Accessorize with a rug
Find a bench for the end of our bed to put on shoes
Find some interesting art/wall hangings and something to go over the headboard
Here are some of my inspirations for the master bedroom. First of all, you get to the room through the living room with the dark blue wall and a green accent. I was hoping to play on the green accent for the two looks to be compatible, but not matching exactly. So I had the idea of green and gray. But the carpet is a deep tan and I don't like tan and grey together. So I'm going to work with more of a spring woodlands feel, with textures, some plants or some dried wreaths, and stick with a green/tan feel. Here is a picture I love from Country Living magazine:
And you can tell that would work with a dark brown sleigh bed rather than a cream headboard. To keep things from getting too heavy, I'll stick with lighter lamp shapes, with some white furniture accents. The green I'm using is not as spring/apple green, it is more of a sea green, called Martha Stewart Tidewater (same name as the brand of our boat...no kidding).
This one is $199 at Ballard Designs. I'd use baskets for one of the shelves to put things normally on the top of my nightstand, and use bookends to make one shelf for all my nighttime reading materials. I read about five books at a time (currently America Aflame [Civil War context], Class of 1846 [generals from West Point in the Civil War], Staying Lost [hiking the Pacific Coast Trail], Easter Rebellion of 1916 [Ireland's rebellion], and Lifeboat by Charlotte Rogan [fiction 1914 boat sinking where people are stuck in a lifeboat]).
I also need to figure out curtains for the lone window in this room and I'm thinking of using a traveler system, like the rest of the windows in the house, but have the rod extend much past one side of the window so that when you pull the drapes, the window is completely exposed instead of some of it being obscured by the bunched fabric.
Here are some of the curtain choices I'm thinking of:
Target (red accent)
Target (brown accent)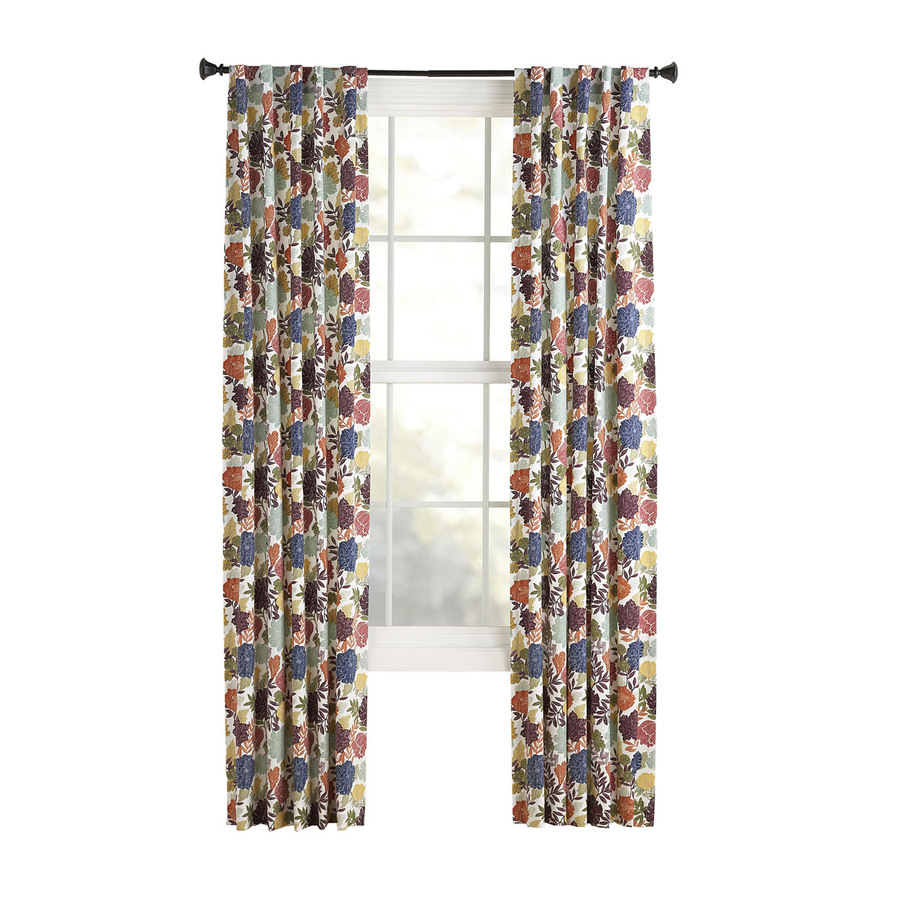 Lowe's (tan accent)
I'm leaning towards the middle or last option. The last ones are $14.97 per panel and I think I'd at least need 2, but possibly four to give a full feel. At least I definitely have curtain rods that I love so I don't need to buy those.
At the end of our sleigh bed, I would like a bench to help with putting on shoes...as well as a place to store the 20 pairs of shoes we have laying all over our house. Anyone else have this problem? Hint, they aren't my shoes.
Target - $165
Here is another cute bench
from Macy's with storage, but it is $399.
Finally: the to-do list:
Paint bedroom walls
Install floating shelves and put up decorative items on them
Get bench or seating for room
Remove wallpaper in bathroom sink area
Paint bathroom sink area and bathroom
Install curtains and new curtain rod
Change ceiling fan or get new light fixture
Get new nightstands to match the height of our actual bed
Sand and paint bookcase
Move in bookcase to hold books and personal items
Hang art, some pictures, and other stuff for accessories
Clean old dresser and buff out scratches, perhaps get new pulls
I did already buff scratches out of a dresser my mom had when she was little, and it does look a tiny bit better. And I've sanded the bookcase we got at a garage sale for $3.